'Create a storybook app that reduces anxiety of kids going into hospital by educating them about the experience in a fun and engaging way'
THE CHALLENGE:  
 'Reduce children's fear of hospital visits'
The NHS approached us to help make the prospect of going to hospital less daunting for children. They already had an excellent idea: A team of finalists from the 2023 challenge had imagined a phone and iPad story app.
APPROACH:  
 'Engaging children in a fun and educational story'
The app is aimed primarily at young children, from 4 to 9 years old. We took a fun, illustrated and caricatured angle to the hospital environment. Initial work centred on addressing specific medical experiences, scamping out scenes and games and generally having fun with ideas.
EXPOSITION
:  
 'It's all about the story'
Writing an interactive, explorative app is much like writing a screenplay; it's about crafting a tale. The lead character, Hetty, an invention of the project owners Ria and Becky, was genuinely inspired. We began, with them, to build up Hetty's personality, understand her whims and concerns and craft a set of traits that would go on to inform the culture of the whole app.
FURTHER DEVELOPMENT
:  
 'Developing a powerful immersive environment'
'
We created an interactive environment for Hetty to travel through. With a range of exciting areas and games to explore and play around with; the development process was extremely agile. New ideas sprung up during the design to make the environment more fun, such as the flipping birds or sneaky moles. The point is, every part should be fun. Children should be empowered by Hetty's Hospital so that in the real thing, they feel calmer.
•   A storybook app with 4 main characters, 6 supporting characters, 16 scenes, and 12 games
•   Around 500 estimated downloads despite limited marketing
•   5 Star reviews on iOS App Store and Google Play Store
•   £60 000 funding secured for next Phase in collaboration with Great Ormond Street Charity, and University College London Hospitals to create 4 new storylines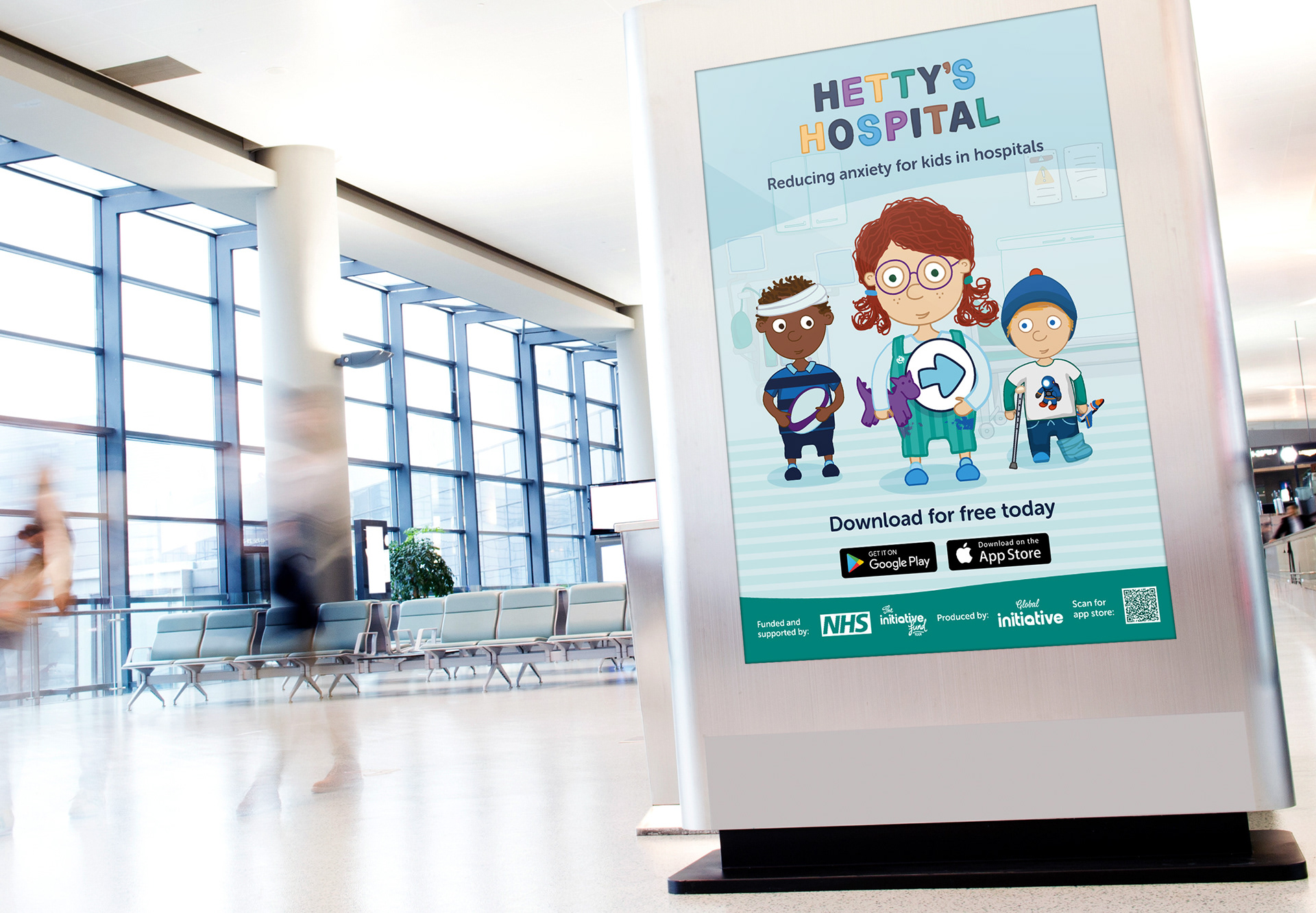 Translating a sterile, intimidating environment into something that children can find friendly and familiar